Corporate lawyer Drew Hudson has better things to do then take on this ridiculous lawsuit, but since he works for the client's husband, he has no choice. After meeting the beautiful, sweet-tempered owner, he can't keep his mind on the silly case. But when the client turns up dog gone dead, Brooke may be a conflict of interest when she's charged with the murder. All Drew wants to do is prove that this sexy entrepreneur is not dangerous, except to his heart.  Can she take a chance on him?
 I'll get you and your little dogs, too!
 Veterinarian Poe Madigan enters The Fur Ball with her Jack Russell terriers (aka The Terrible Two) to compete for a substantial cash prize that will keep her mother from losing her home. But when her fabulous partner sprains his ankle, Poe must trade him and his talented Bichon for a sexy, muscle-bound hunk who can't dance and his Basset Hound, Lazy Daisy. If that's not enough to make her despair, it seems The Terrible Two have angered someone and they're receiving death threats!
Security specialist Jared Taylor promises one of Poe's friends that he will go undercover as her dog dancing partner to protect her from danger. He didn't expect to find his staid, traditional life would be turned all topsy-turvy and he would find a soft spot for a neglected hound and fall for a Goth princess. But when he reveals who he really is and why he is in Poe's life will it destroy the foundation of trust they've built? Could he lose the real prize – Poe?
Diamonds are a dog's best friend.
Companion Novella to Hounded. Your enjoyment would be increased if you have read not only Hounded, but the full Going to the Dogs series.Poe is getting married and she's having Jared's baby. She's gotten her happily ever after, but everything happened so fast, she's barely had time to take it all in. She's worried about her ability to be a good mother. Will her doubts overshadow these joyous occasions—her marriage and honeymoon with her sexy cowboy?
But, she'll have to catch her breath on the run. Before she can say Zombie Apocalypse, she's off to Vegas where all her friends and family are assembling. They have to put a wedding together in a week. Can the dog park babes come to her rescue to get this hitching to come off without a hitch?
Ah, wait, The Terrible Two are involved.
But as they embark on their new life together, Callie can't let it go and Owen won't open up. How can their marriage progress in light of what Callie feels is Owen's distrust. Will their marriage even survive the honeymoon?
A companion novella to Groomed for Murder Going to the Dogs, #2. Your reading enjoyment would be enhanced if you've already read Groomed for Murder.
Brooke and Drew are getting married and Brooke is happy juggling all her responsibilities with her wonderful fiancé, Drew and her playful Bulldog, Boxer. She's in her element running both Pawlish, her doggie grooming spa and Bone Appétit, her dog treat franchise.
But, even though Drew hasn't been demanding, he's unhappy. Whenever he brings up slowing down, she reassures him she can handle everything. But the reality is that she isn't and their relationship is suffering. It isn't until the honeymoon that things come to a head. Brooke is spending more time putting out fires with her businesses than she is quenching her new husband's fire.
Will her need to handle everything cause her to lose…the only thing that matters?
 About the Author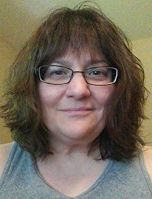 Brought to You By: